Grant Plumbley
Physiotherapist/Clinical Governance Manager
Available at our Martinborough Clinic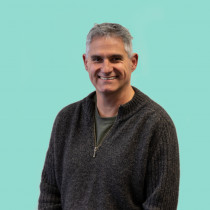 Grant gained a Bachelor of Physical Education degree from Otago University in 1987, then a Diploma of Physiotherapy from Otago Polytechnic in 1990. He worked in Wellington Hospital on rotation through musculoskeletal outpatients, respiratory, and neurology for 1 year. Then spent 3 years as a physiotherapist within the multi-disciplinary team at the Wellington Sports Medicine Clinic, before heading to the UK in 1994.
Over his 13 years there he gained extensive experience as a physiotherapist in the performance, sports, and corporate health sectors;
on-site at Shell International and Shell UK,
touring the world with Riverdance - The Show from 1997 to 1999
at BUPA Wellness Musculoskeletal Centre of Excellence in the City of London from 1999 to 2005, working alongside specialist sports medicine doctors, physiotherapists, osteopaths, podiatrists, musculoskeletal radiologists and surgeons. He also worked on-site at Nomura Holdings, and Morgan Stanley. Prior to leaving he worked as BUPA National Physiotherapy Manager in 2004 - 2005, with clinical responsibility for a team of 30 physiotherapists.
as a 1st team/reserve team Physiotherapist at Tottenham Hotspur Football Club in 2005.
looking after the 2000 Olympic Heavyweight boxing champion Audley Harrison, from 2000 and into his professional career until 2007.
He returned to New Zealand with his young family in 2007. Bringing with him a great working knowledge of discomfort, pain and injury within the performance, work, and sport situations.
Grant has developed excellent assessment skills and a wide variety of treatment techniques – using mobilisation, manipulation, soft tissue release techniques, acupuncture and specific exercises and rehabilitation in the treatment of these problems. His experience as National Physiotherapy Manager for BUPA in the UK, also gave him valuable experience in the clinical governance demands associated with a large musculoskeletal clinic.
Grant works for WSP and WSM as our Clinical Director / Clinical Governance Manager and completed his Masters at Massey University in 2018. He has responsibility to ensure that we continue to meet and exceed the clinical standards required for HDANZ accreditation, and our Endorsed Provider Network contract with ACC. He performs notes audits, ensures we have evidence informed and acceptable care pathways, contributes to our ongoing CPD program, mentors our younger therapists, reviews complex claims and provides second opinions for complex injuries, assesses and manages concussion, advises on policy and procedures, delivers seminars, and investigates complaints.
Willis Street Physiotherapy have recently set up a local community clinic in Martinborough where Grant will continue to see ACC clients on contracted services such as SAW/VRS, Pain and Concussion. As well as those who present with acute ACC injuries, and those who have non-injury pain and discomfort. Please note that his availability in Martinborough will be limited as he continues with his busy Governance role.
His current interest is to facilitate the collection and collation of outcomes to provide patient centred subjective and objective measures of our effectiveness. And to encourage the greater utilisation of local private community physiotherapy clinics by the public health sector to facilitate the more immediate and closer to home care of musculoskeletal injuries.
Grant was invited and represents the community allied health sector within the clinical council of the CCDHB, and was elected onto the BoT of the local primary school. He has also contributed to the Ask a Sports Physio e-book put together by Physiotherapy New Zealand